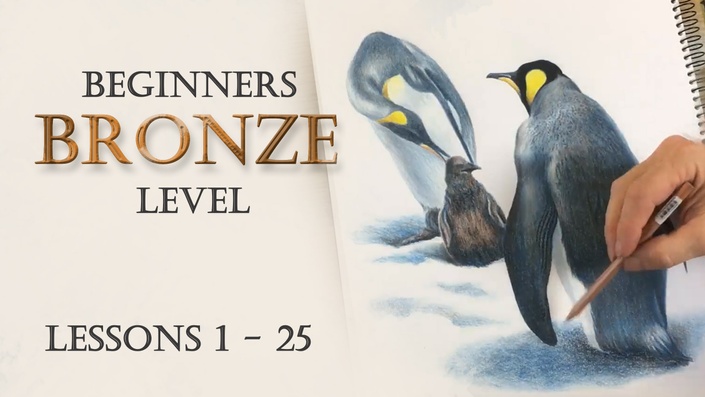 BRONZE lessons 1 -25
Immediate Access - Lessons 1 to 25 of the Art Lessons Online Membership Program.
Enroll in Course
This course enrolment is for instant access to lessons 1 to 25 of the Art Lessons Online Membership program. The lessons are identical to the Membership program, with the exception that you can get immediate access without waiting for the weekly delivery of new lessons.

What is it that stops us from being able to draw? Why does it seem so easy for some people to draw while most people struggle with even basic stick figures? How can we change our thinking about drawing to allow us to be able to draw like an expert?
This easy to follow weekly program is designed to get you past those road blocks that are stopping you from developing the skills of drawing. If you have always wanted to draw but getting frustrated at your results, or you think that you can only draw stick figures but nothing else, or you just want to improve your drawing skills then this membership program is for you.
"I don't just show you the techniques that I use, I go much further to train your brain into thinking like an artist. These lessons are designed to expand your thinking so that you understand what it is that you need to do, why you need to do it and most importantly, how!"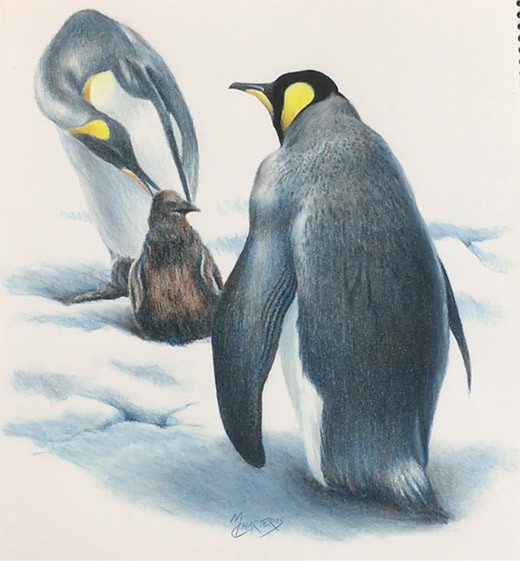 This program could be the turning point in your life. Whether you have been wanting to learn how to draw all of your life but have never taken the steps to learn or if you are already learning but want some extra help along the way, this membership is aimed at helping you transform your drawing skills to a point where you can proudly say that you CAN draw. I'm very excited about helping you learning how to draw and I hope that you are just as excited to learn.
"Just wanted to say how great your lessons are. So many times I've been trying to find a great way to be able to "see" what I'm actually drawing and your measuring techniques have really helped open up my eyes. I have the book "Drawing on the Right Side of the Brain" which has helped by upside down drawing but nothing has really helped me get the proportions correct.
Most teachers (online and otherwise) just expect us to draw shapes (and not accurately at that). I prefer to draw from photos (and like it to be as close as possible to the photo) and there really isn't anything like this out there for lessons. I'm so glad I found your website!!
This membership has been well worth it :)!"
Karen Bourke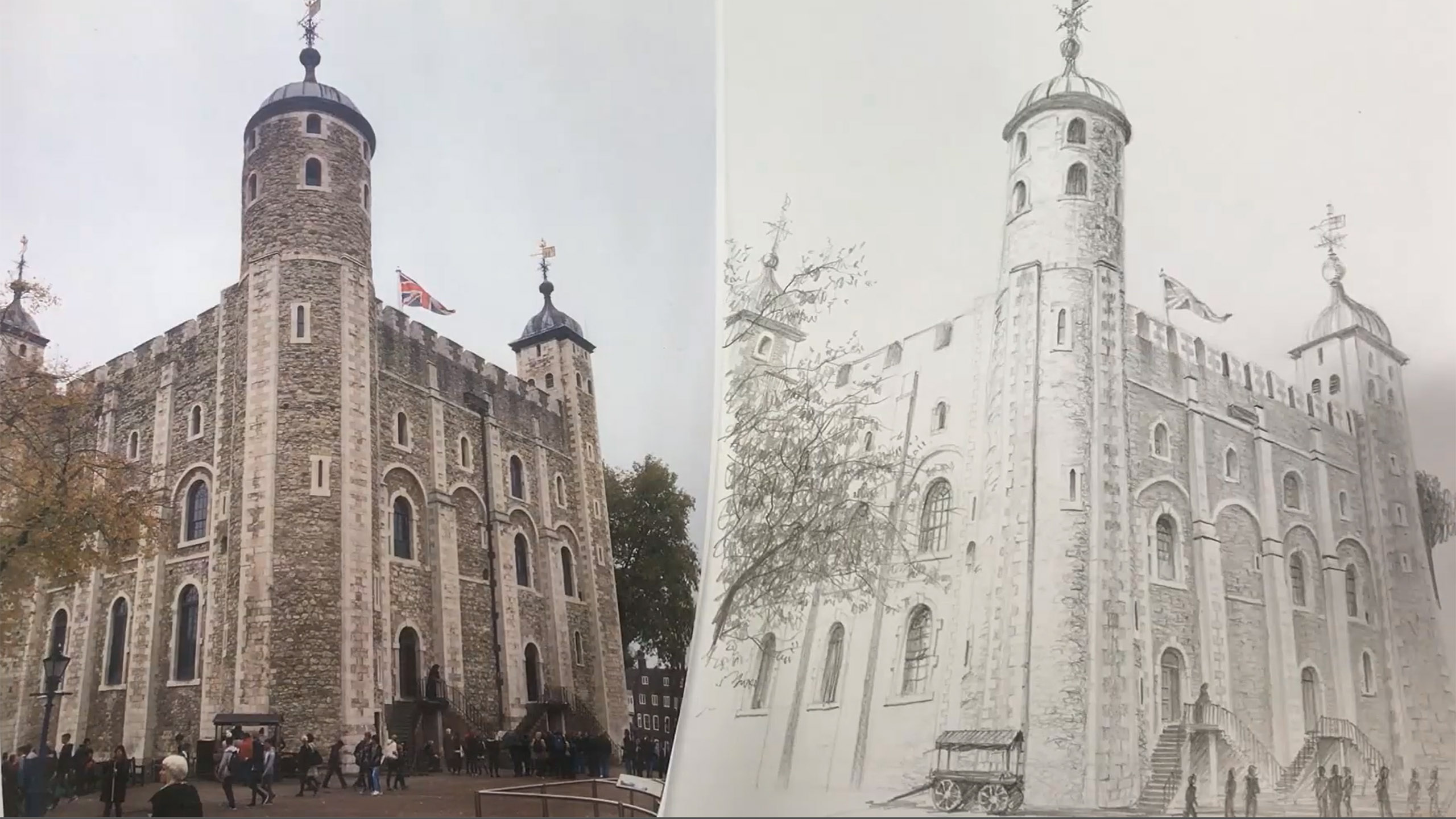 With this membership program I'm going to take your skills from stick figure to expert.
Watching endless hours of Youtube art videos may help you, but to really improve you need a focused, actionable and fun lesson plan to follow. This program is designed to change the way that your brain thinks about drawing. These are the fundamentals that you need to know to be able to improve your drawing skills.

This program follows on from the free introductory course (or the 5 day challenge) where we cover the 3 core fundamentals of seeing and drawing lines. If you have just completed the level 1 free introduction, this course will pick up right where you left off and help you develop your skills even further.

Your Instructor
Australian artist Murray Charteris was born in Brisbane, 1972. Predominantly working in acrylic but also with extensive experience in digital art and animation, Murray is best known for his vibrant, illustrative paintings. He has had solo exhibitions in Queensland and administered his own gallery in Hervey Bay between 2007 and 2011. Murray has had gallery representation in Brisbane and Darling Harbour, Sydney.
Murray Charteris is quickly gaining a reputation for his dynamic, energy filled fine art. His bold colours and powerful compositions come together to produce stunning artwork that is increasingly sought after.
Murray started painting at a very early age and during his childhood he has been tutored by several artists throughout Brisbane. After studying animation for 3 years at Queensland College of Art in Brisbane, Australia, Murray has made a successful career from his animation skills, creating 3D computer animation and special effects for television commercials and programs both in Australia and overseas.
On his return to Australia in 1995, Murray started work with Australia's leading television network Channel Nine, where he quickly gained a reputation for his design. Murray was placed in charge of the Videographics department in Brisbane in 1997 and led a very strong videographics team for nearly 12 years. During this time, Murray has won a Gold World Medal in the New York Festivals and has twice been a finalist in the Australian Effects and Animation Festival.
Murray's real passion has always been drawing and painting. In 2007, Murray re-located to Hervey Bay and devoted his time to his art, working as a full-time artist. "Painting is what I really love to do, I love to create new worlds that could only have once existed in my imagination. I like to create a feeling of energy and motion into my art and tell stories through imaginative works".
Murray is currently working in his studio in Brisbane.
Frequently Asked Questions
When does the membership start and finish?
This version of the program gives you immediate access to all lessons. That means that you can start whenever you want and go at any pace that suits you.
How long do I have access to the lessons?
How does forever sound? Once you enroll, you will have permanent access to all of the lessons of this course.
What if I am unhappy with the course?
We would never want you to be unhappy! If you are unsatisfied with your purchase, contact us in the first 30 days and we will give you a full refund.
Do I still get access to the Facebook Membership Group?
Yes! The group is a great way to join others that are going through the course, to ask questions and share results. Enrolling in this version of the program still gives you access to join that group.
Course Contents
WEEK 1 - Breaking Down the Drawing Barriers
Available in days
days after you enroll
WEEK 2 - Learning to see again
Available in days
days after you enroll
WEEK 3
Available in days
days after you enroll